KitchenAid 5-Speed Hand Blender Review
admin
October 13, 2023
29

11 minutes read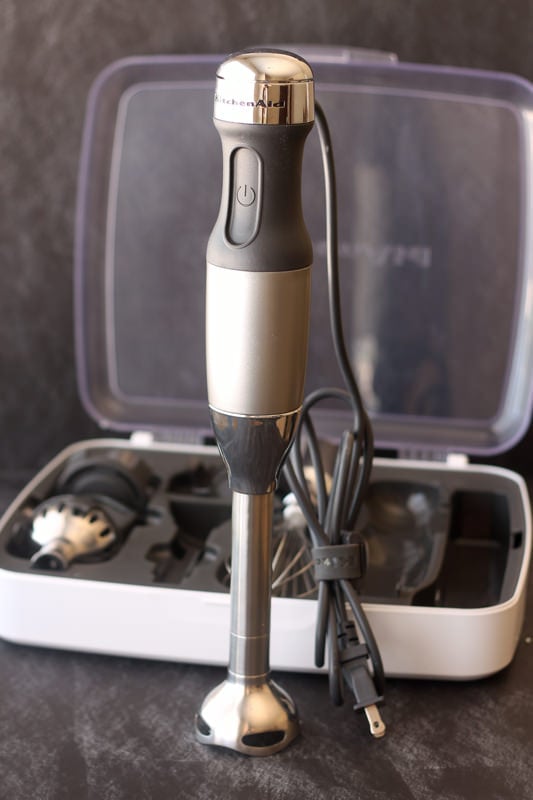 If you follow me on Instagram you may remember me posting a photo of this KitchenAid 5-Speed Hand Blender when I received it in the mail. When KitchenAid asked if I would be interested in receiving one of these fancy schmancy blenders to review I was ecstatic. I love the idea of a product that can offer multiple functions in one machine. Excuse me while I freak out for a minute about the fact that this blender comes with its own carrying case.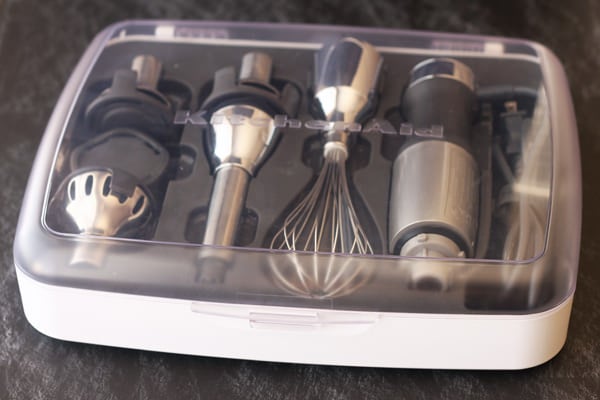 The organizational freak in me is obsessed with this case. If something doesn't have a proper place in my kitchen it gets lost. I've actually lost pieces to small appliances before which is a total bummer because it's hard to find random components. This case is wonderful and allows you to see all the different pieces while keeping your fingers safe from sharp edges.
As you can see, this hand blender comes with many attachments and accessories for a variety of capabilities. Pictured above are the uniquely interchangeable bell blades which perform different kitchen tasks:
Frother/Beater blade: Froth milk for cappuccinos and blend up batters for cakes, pancakes, and muffins.
Multi-Purpose blade: Crush ice, shred meat, and mince vegetables.
S-blade: Blend smoothies, puree soups and sauces, make baby food, and much more.
Whisk attachment: Whip egg whites and cream and make emulsifications such as mayonnaise and vinaigrettes.
The unit also comes with a blending pitcher, chopper attachment, and a generously long blending arm to allow you to blend inside deep pots. The bell blades even have an attachable pan guard which protects your nonstick cookware from being scratched. The blender itself has a comfortable ergonomic grip with a speed dial on the very top and a large power button. The power button can be held down during blending to activate one-touch blending so you aren't continuously holding the button.

Make breadcrumbs and process other small ingredients: The first task I put the blender to the test with was something no immersion blender I've used has been able to do – make fresh breadcrumbs. Among the KitchenAid hand blender's many, many functions is the ability to work as a small food processor. I can't tell you how perfect this is for small tasks that you can't do by hand and don't really want to lug out your big food processor. I needed a small amount of fresh breadcrumbs for my Lobster Macaroni and Cheese recipe and I immediately thought to use the hand blender. It worked brilliantly. I can see myself using this chopper attachment for chopping onions, grinding up nuts, graham crackers for crusts, big bunches of fresh herbs, and making salsa.

Whip cream in 30 seconds: Although this hand blender comes with a variety of interchangeable bell blades for different uses, I wanted to see how the standard S-Blade would handle a somewhat unusual task. This particular blade is great for all-purpose blending, such as pureeing a soup or making a smoothie, but I had a feeling it could handle even whipping cream to stiff peaks. The KitchenAid Hand Blender managed to whip cream in about 30 seconds. It was awesome. And I did it right inside the accompanying blending pitcher so I didn't have to lug out a big bowl. The adjustable speed setting is especially handy for this purpose. I will absolutely be using this feature in the future.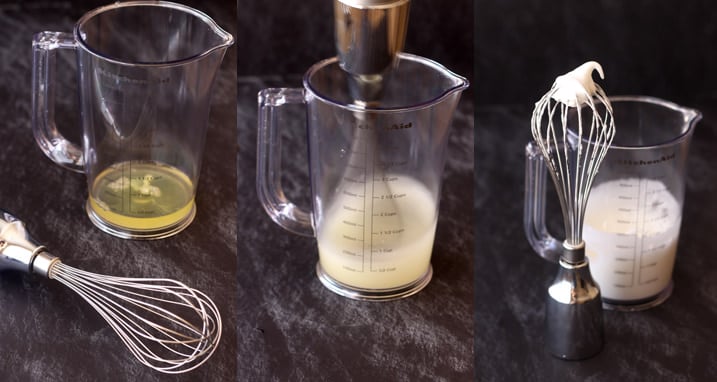 Whip egg whites: The unit also comes with a whisk attachment, which could also be used to whip cream. I wanted to test it out with egg whites, though, which are notoriously difficult to bring to firm peaks. I whipped just egg whites (no cream of tartar) to peaks in less than a minute. This is fantastic for when you only need to whip a small amount and don't want to get out your stand-mixer.

Puree soups and sauces: Lastly, I had to test how the blender would puree soup. My previous immersion blender was very basic and did not have any of the fun attachments that the KitchenAid has. This meant that I basically only used it for soup and sauces which was about once a month. This KitchenAid hand blender clearly does more than just soups and sauces but I had to make sure it did those things well too. Guess what? It does! I'm not surprised, though, with the way it performed all the other tasks. I pureed whole tomatoes to make tomato soup right inside my pot. I absolutely love being able to puree right inside the pot instead of painstakingly ladling the (often dangerously hot) mixture into a blender to puree, only to pour it right back into the pot. The hand blender eliminates this entire messy process.
The KitchenAid 5-Speed Hand Blender retails for $129.99 and can be purchased directly from KitchenAid or at many kitchenware retailers. Although it is on the pricey side for an immersion blender, it performs so many different functions and can take the place of other small appliances (such as a mini chopper or hand mixer). The speed control dial combined with all of the attachments make this the tool for so many kitchen tasks. Plus, it comes with its own protective organizational carrying case! KitchenAid really thought of everything with this product. Even the power cord is extra long and smooth with its own silicone cord strap for easy cleaning and storage. The entire unit with all its attachments are a breeze to clean. The blending pitcher is extra large and has a lid for convenient food storage and is marked with measurements on the side .Lastly, the machine comes with KitchenAid's 1-year "Hassle-Free Replacement Warranty" which I really like. I hope you guys found this KitchenAid hand blender review to be helpful. What would you do with this blender?
*Disclaimer: I received this product from KitchenAid at no cost to me for the purpose of review. I did not receive monetary compensation. As always, all opinions provided are my own.