The Magic of the Steam Juicer
I 'did my time' many years back on the juice-to-make-grape-jelly process. Wash, stew, dump hot messy fruit in a jelly bag, wait …drip…wait. THEN start the jelly making. Whew! Fast forward 10 years and a co-worker has tons of Concord grapes. A friend is dying to make them into jelly. Oh, please, oh please will I do it? She will help! We'll pick, we'll do the whole thing together! Hoorah! So we drive nearly an hour, pick grapes and drive back to my house. Long ugly story short–she bailed on me before the jelly bags were filled! Never, never again–no grape jelly for me I swore unless it was Welch's….
Then I join Canning2 and the enabling began! What was this amazing Thing–this steam juicer Thing? It does what? Makes juice with steam? No cooking first? No drippy bags? No Way!
After watching a trusted efriend wax poetic about this Thing many times, I took the plunge on Labor Day weekend 2006–saw a great online deal on a steam juicer, and bought myself one.
Oh my, where had this Thing been all of my preserving life?
It's not magic, but it sure seems magical! Load the top basket with food, get the bottom water-filled pan boiling and like magic – beautiful, clear, pure juice rolls out the tube from the middle pan!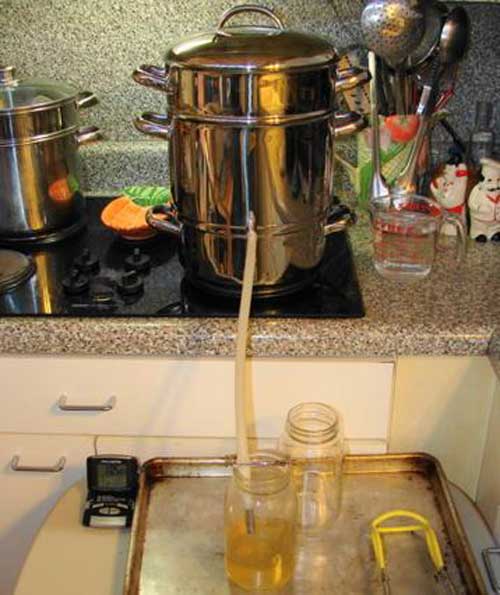 The most common use of the steam juicer is steaming fruit–like strawberries!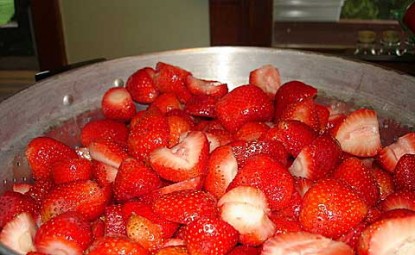 Strawberries after steam juicing–note the immense reduction in volume!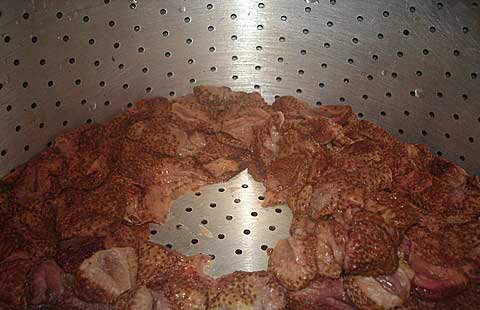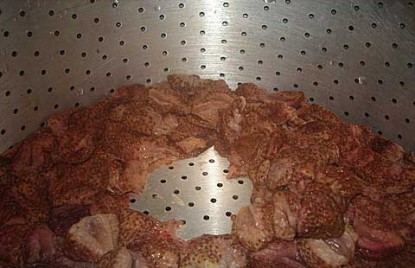 Fresh/sugared berries vs. steamed berries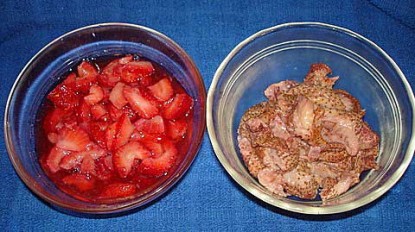 Beautiful juice to make whatever you like–beautiful, clear jellies? Strawberry Lemonade?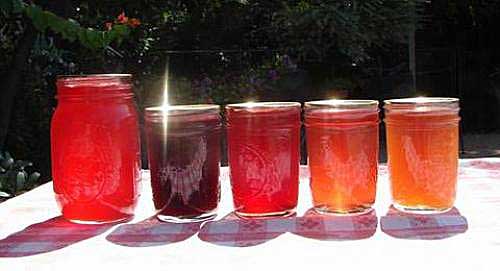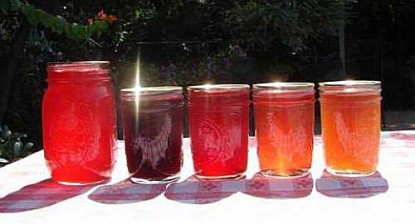 Intrigued yet? Well, it gets even better! You can steam juice meat and the result is beautiful broth as well as steamed meat to can. You can steam tomatoes to make much shorter work of canning tomato sauce, can the steamed-off liquid for soup stock (see kellyb's recent blog post here). Apples–including crabapples! Steam juice apples and get applesauce AND apple juice. I could go on and on but you can bet there is no need for Welch's in my pantry these days–but there are plenty of juices and jellies and broths ……
Note: Special thanks to my friend Dean Crabtree of Arlington TX for permission to use his steam juicer and jellies pics in this post. His steam juicer and kitchen are prettier than mine!! And the jellies? They went to the Texas State Fair!
You can also find Dede at Yahoo's Canning2.

Interested in contributing a guest post to the Farm Bell blog? Read information here for Farm Bell blog submissions.

Want to subscribe to the Farm Bell blog? Go here.